'Transforming Performance'
NESA Business Intelligence is an innovative and effective solution for providers who are delivering employment services contracts.
A critical requirement of contract delivery is ensuring that organisations have complete visibility of their contractual performance across all lead indicators.
NESA Business Intelligence is a comprehensive and effective contract reporting solution that will assist organisations at both the corporate and operational level. NESA business intelligence reports have been designed by a team of industry experts who understand the different levers and requirements that business leaders need in order to drive their operational and organisational performance.
"NESA dashboard saves my managers at least two to three days' work per week"
NESA Business Intelligence has designed a range of unique and comprehensive employment services dashboards for the following programme areas:
Community Development Programme (CDP) | Disability Management Services (DMS) | Employment Support Services (ESS)
The NESA Business Intelligence Dashboard provides one central report for organisations to effectively understand and manage the performance of their operational contracts. The dashboard report itself is an accumulation of over 20 individual reports rolled into one high level report so that, at an instant, a provider can isolate their trending performance.
The uniqueness of NESA's dashboard reports is positioned in the central report, where every indicator can be unpacked down to the job seeker, community or office level. Every report is accessible from the dashboard main screen, and can be exported so managers are able to address each indicator individually or group a number of issues together. The report is built to be as simple or as multifaceted as the user wants, however, the main purpose is to provide focus without overwhelming teams, leading to quick identification of actions to improve performance.
"These reports have massively contributed to the success of our performance so far and we definitely want them to continue."
The Business Intelligence Dashboard
Navigating through the NESA Business Intelligence Dashboard is intuitive, with the ease of clicking on links that will provide a complete picture of your operational and organisational performance. The dashboard itself is presented in a spreadsheet format that is unbreakable, with all reports searchable from the Dashboard main screen. All dashboards have been designed in direct consultation with providers to ensure that functionality and information have been designed for user ease and interpretation.
* All performance indicators can be unpacked to job seeker level
* All data can be presented at site, regional, community, ESA or organisational level
* Every report is accessible from the dashboard main screen
* All reports can be exported
* All data is easily interpreted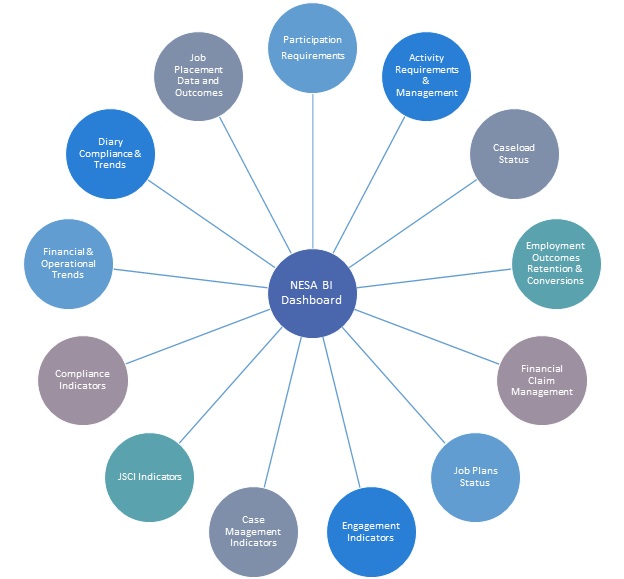 NESA Business Intelligence profile represents:
NESA Business Intelligence Dashboard will be offered as an annual subscription. NESA has completed a market review ensuring that our fee structure is competitive, where providers will achieve a return on investment.
To understand more about the pricing structure and to request an individualised outline for your organisation, please contact Miro Lojanica on +61 3 9624 2303
Your annual NESA BI subscription includes:
* Weekly Business Intelligence Dashboard Report
* Ability to incorporate your organisational KPIs into the report
* Introduction training and optional weekly teleconferences for the first six weeks
* Regular and responsive updates associated with programme and ECSN changes
* Weekly trending updates
* Help-Feedback-Hotline
* Unlimited users
* Secure back-ups