When:
October 11, 2023 @ 6:30 pm – 10:30 pm
2023-10-11T18:30:00+10:00
2023-10-11T22:30:00+10:00
NESA Awards for Excellence 2023
Since being implemented in 2004, the NESA Awards for Excellence have highlighted the impact of employment services in partnership with employers and participants to improving the economic and social well-being of individuals, families and communities through employment inclusion.
The NESA Awards for Excellence:
Foster high standards and provide a benchmark for excellence within the employment services sector
Recognise employers who demonstrate excellence in the recruitment and retention of disadvantaged participants in partnership with employment services providers
Encourage employers to adopt and support employment services programs
Honour participants who have overcome disadvantage to obtain and sustain employment
Provide role models for other participants
Recognise employment services professionals who demonstrate excellence in the conduct of their role
Promote professional development within the employment services sector
Enlighten the wider community about the adversity and disadvantage experienced by unemployed people and the effort required to overcome barriers to achieve employment
Reinforce the value of the sector, fostering participant, employer and public confidence
The right to use NESA's Awards Seal on collateral for two years
Promotion in national, state and local media
A high quality, framed certificate for all finalists
Greater recognition within the sector and with key external stakeholders
Invitation to the VIP-only Champion's Reception held immediately prior to the Gala Awards Dinner
One ticket to attend the Gala Awards Dinner for each finalist or finalist representative
The finalists for Employment Consultant and Achiever of the Year are provided with travel** and one night's accommodation to attend the NESA Awards for Excellence Ceremony.
In addition to Finalist Benefits, Winners of each Award Category Receive:
A prestigious Award Trophy
An Awards Seal and guidelines for use to promote the win
Promotion on NESA's website and inclusion in the Annual Report
Additional PR campaigns
The Employment Consultant who nominated the Achiever of the Year is also provided travel and one night's accommodation to accompany their nominee to the NESA Awards for Excellence.
All required airfares are return economy from the finalist's closest major, regional or metropolitan airport.
Transport to and from the airport and event venue are at the nominee's expense.
Champion Employer of the Year finalists do not receive travel or accommodation to attend the NESA Awards for Excellence.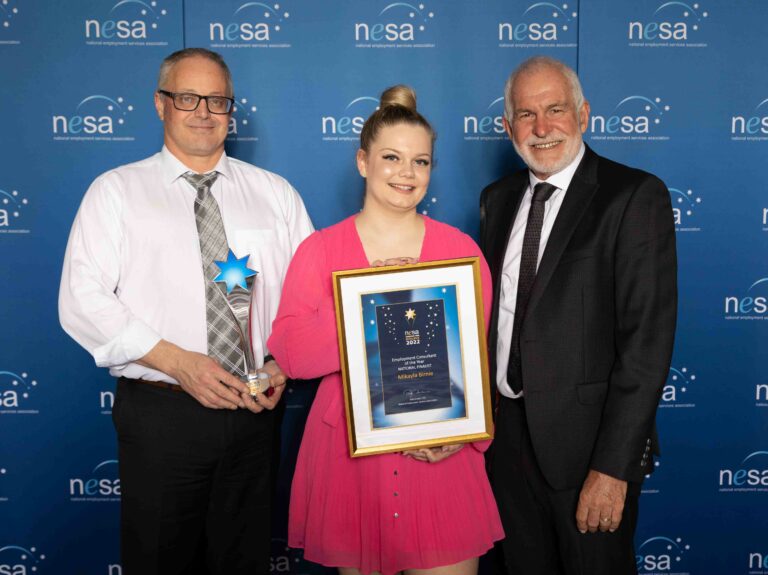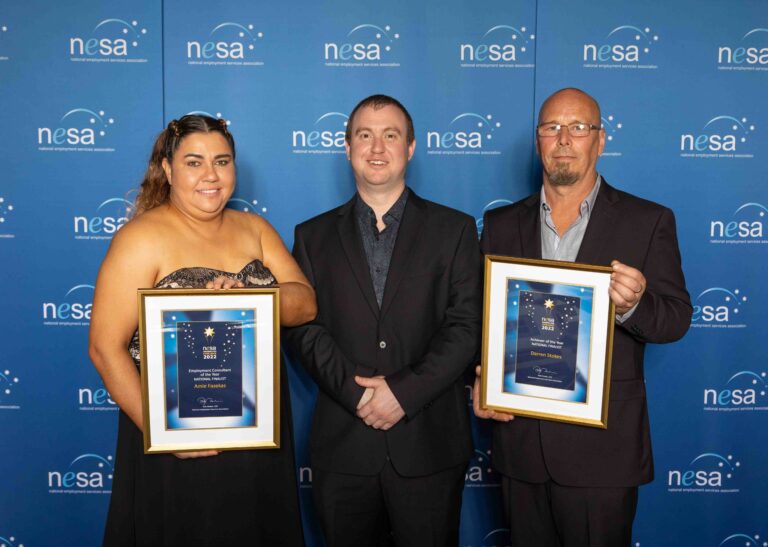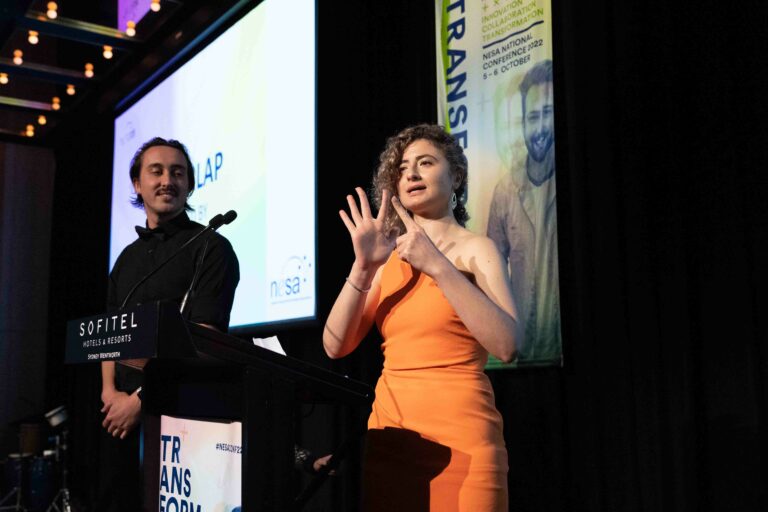 Award Winners will be Announced at the
NESA Awards for Excellence
Gala Dinner
Wednesday 11 October 2023, Sofitel Brisbane
Don't Forget to Purchase your Gala Awards for Excellence Dinner Ticket

This Award recognises a former Participant who has overcome extraordinary disadvantage to achieve employment.
Covers all applicable elements of the Overarching Award Eligibility Criteria below.
In addition, open to former Participants who:
Received employment assistance from a provider of an employment program or service managed by the Australian Government: Department of Employment and Workplace Relations; Department of Social Services; or the National Indigenous Australians Agency and
Achieved substantive employment resulting in achievement of a full employment outcome ** after 1 July 2022 and remains in sustained substantive employment on the date of the awards – 11 October 2023
"Substantive employment" is defined as employment in one or more concurrent jobs with sufficient hours and/or income to qualify for a full employment outcome.
"Full employment outcome" is in accordance with the requirements of the program/service in which the Participant was engaged at placement into employment.
** For clarity the Participants placement may have occurred prior to July 2022 but the outcome must have been achieved during the Awards qualifying period.
Please ensure selection criteria responses focus on the former Participant (rather than the organisation or Consultant assisting them). The former Participant must be aware of their nomination and consent to its submission in these awards. NESA recommends that completion of the submission occur in partnership with the nominated former Participant and they provide consent to share information.
CHAMPION EMPLOYER OF THE YEAR


This Award recognises employers who demonstrate excellence in employment inclusion of disadvantaged Participants.
Covers all applicable elements of the Overarching Award Eligibility Criteria below.
In addition, open to employers:
That were assisted to recruit staff and nominated by a provider of a program or service managed by the Department of Employment and Workplace Relations Department of Social Services; or the National Indigenous Australians Agency during the qualifying period: 1 July 2022 – 30 June 2023.
EMPLOYMENT CONSULTANT OF THE YEAR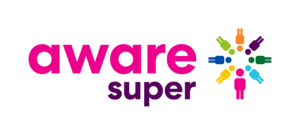 This Award recognises employment services professionals who demonstrate excellence in helping disadvantaged Australians to achieve employment inclusion.
Covers all applicable elements of the Overarching Award Eligibility Criteria below.
In addition, open to individuals:
who provided employment assistance to Participants and employers in the qualifying period: 1 July 2022 – 30 June 2023
Entry Rules and Guidelines
Applicable to all Award categories
All Awards relate to activities undertaken during the qualifying period 2022 – 2023 financial year
All Awards are open to current NESA members and the Participants and employers assisted by them
Nominees must also meet the specific eligibility requirements for the Award category in which they are nominated
All submissions and supporting information are treated as confidential
Assessment of nominations is managed according to the NESA Awards for Excellence Judging Process
Multiple nominations are permitted with a separate submission required for each nomination
By submitting a nomination to the NESA Awards for Excellence, you:
Give permission to NESA and its Awards Convenors to describe your achievements at the Gala Awards Dinner and to promote your achievements to the media
Understand that your identity and that of the submitting organisation will be disclosed during the Awards process
Are granting NESA permission to reproduce supplied photographs (except where otherwise requested), the organisation's logo and non-pecuniary information from your submission
Understand that your contact details may be shared with official members of the media pursuing stories regarding the awards and award nominees
Agree to abide by the judging panel decisions and accept that there will be no appeals
Agree to attend the Awards presentation in person or virtually subject to travel restrictions (e.g. COVID-19, natural disaster) or significant personal circumstances.
Note: NESA or its Awards Convenors will contact finalists for the Achiever of the Year category or their representatives to review the nomination and agree on the information that is permitted to be shared with the media or used in NESA communications.
NESA retains the right to:
Contact finalists prior to the Awards presentation as deemed necessary
Withdraw the granting of a particular honour if the award entrant or nominated representative is not present to accept the award in person or virtually
Withdraw from judging any submissions received through a nominating organisation that goes into administration, voluntary receivership, liquidation or is declared bankrupt after the awards closing date.
Nominations must include:
An answer to each criterion
Uploaded files where they have been requested
A quality head and shoulders photograph or other suitable image of the nominee for individual nominees, or a quality group photograph or image for team nominees if applicable
HAVE YOU CONSIDERED...
Your organisation may be eligible for more than one award?
Award nominations are submitted online; via separate online portals for each Award Category, accessed via the APPLY NOW buttons above.
Before you start the online submission process, please ensure that:
You have reviewed and meet the General Eligibility criteria (link above), as well as the Specific Eligibility requirements for the Award category which you are nominating
You have read the Selection Criteria for the award category which you are nominating
You have read the Entry Rules and Guidelines
Instructions and tips for how to submit:
The online submission form must be completed in one pass; you cannot save a partial response and return to it later.
Please have the following information prepared, before starting your online submission.
Photo of the entrant (where required)
Contact details of the primary person responsible for the submission
Selection Criteria responses, including any documents for upload.

In your selection criteria responses, please refer to your organisation using exactly the same namethat is entered in the "Nominating Organisation" field in the nomination form. Do not use abbreviations, alternative trading names or shortened forms.
For any criteria with a word limit provided, please have your responses prepared in a separate electronic text document that you can then copy and paste into each individual text box in the online submission form. Your response/s will not be accepted if you exceed the word limit. Your word count is displayed for each response.
Supporting material – You may provide up to five A4 pages of evidence to support the claims made in the nomination. Please combine all supporting material into a single document (.pdf or .doc(x) files). Cross-referencing supporting material in the criteria response is essential. Supporting information may include, but is not limited to, photos, data, graphs, and copies of commendations or other letters of recognition.
Any documents to be uploaded must not exceed 10MB per file.
Upon completion of your submission, an e-mail will automatically be sent to the primary person (nominated in your submission) to confirm successful receipt of your nomination. The confirmation e-mail will include a copy of your submission, including file attachments for your own records.
(If you do not receive the confirmation e-mail immediately, please check your e-mail Junk folder or SPAM filtering systems prior to contacting NESA on 03 9624 2300.)
The NESA Awards for Excellence judging process is rigorous, transparent, and taken very seriously by the Independent Judging Panel. Judges invited to participate in the Awards are people who have notable expertise in relevant areas such as recruitment, business, health, community services and social inclusion. Revision of the Award assessment process occurs annually to ensure we uphold the highest standards of integrity.
Every nomination is subject to a comprehensive and rigorous assessment process using a standardised scoring and weighting system with auditing, variance, and due diligence checks to ensure consistency with the Award criteria.
NESA announces a maximum of three finalists for each award category. The judging panel will exclude nominations that do not achieve an acceptable benchmark score from the determination of finalists. At their discretion, the judging panel may identify nominations worthy of additional commendation, recognition, or Award. A panel of at least two judges, including an Award Convenor, undertakes assessment of each Award category. Each judge independently assesses each nomination in the category, scoring each criterion and providing written comments including feedback on how to strengthen the nomination.
After assessment of all nominations for the category are complete, the Award Convenors conduct an audit, crosschecking all scores given by the category judging panel to identify any inconsistencies in scoring. Where this occurs, Award Convenors review the nomination before contacting the judge(s) to discuss the rationale for their score. As appropriate, the Award Convenor may convene a deliberation conference to discuss the nomination(s) or criteria for which scoring has been discordant and/or request a re-assessment by one or more judges.
After completion of the assessment process, the top three scoring nominations become the Award category Finalists and announced publicly. Announcement of Award winners of each category occurs at the Gala Awards Dinner held in conjunction with the NESA National Conference.
NESA staff support the judging process but do not participate in the assessment of or review nominations. Management of nominations occurs with strict confidentiality processes in place.
INTRODUCING THE JUDGING PANEL
Maree Armansin has 27 years experience in the organisational development sector and has worked in the education, training and organizational development of adults in both the public and private sectors.
Maree is passionate about making a difference in the lives of others and her work has been in humanising organisations in order to bring about mindful change.
Qualifications
Master of Education
Master of Social Science (Counselling)
Grad Dip Counselling
B Ed, Dip. Tchg, Dip. TAE
Maree is on the Board of the Psychotherapy and Counselling Federation of Australia
BA; DipEd; FAICD; MAMI
Christine is an experienced Board Chair and Director, and executive leader, recognised for her capabilities in Board governance, organisational strategy, strategic risk, and leadership. Christine is an accredited facilitator for the Australian Institute of Company Directors and also serves as a Director on the Board of Queensland Country Health Fund Ltd.
Christine has held roles as a senior executive in the public service and on Boards including as President of Institute of Public Administration Australia (Queensland), Director of the International Research Society for Public Management, Member of the Audit and Risk Committee of the Queensland Audit Office, and the QUT School of Business Advisory Board. Christine was formerly the Chair of the Board of Queenslanders Credit Union until 2018 when it merged with Queensland Country Credit Union (now Queensland Country Bank.)
After 40 years working with BHP in senior positions, Peter retired in 1998 to pursue other interests where he remains passionate – education, science, innovation and employment. A former Chancellor of the Victorian University of Technology, Peter has held more than 30 Chair, President, Vice-President and Director positions.

This has included for organisations such as the Australian Academy of Technological Sciences and Engineering, National Board of Employment Education and Training, Victorian Learning and Employment Skills Commission, Community Advisory Council for the Community Support Fund, and the Prime Minister's Science Prizes. In addition, he provides voluntary expertise to many not-for-profit organisations.
Take time to read and understand the criteria thoroughly – analyse the criteria to ensure you understand exactly what is required in your response. If you are unsure clarify the criteria with NESA.
Make sure your response fully addresses the criteria. For instance, if a question asks you to provide a timeline then ensure you detail the response chronologically.
Avoid writing expansive, sweeping claims or generic declarations. Such statements actually undermine the strength of a nomination, as typically, they contain very little substance and cannot be either proven or disputed.
Be specific about your or the nominee's achievements. Provide evidence to support your claims against the criteria and wherever possible use more than one statistic to prove the point. There are many forms of evidence that you can use to support your claims; data, performance reports, letters of commendation, case studies or examples – choose the form that best relates to the criterion and if the criterion asks for specific evidence e.g. data or a case study, provide what is asked for. If you use the option to upload supporting material, ensure you cross-reference the evidence in the criteria responses and clearly title the uploaded attachment.
If you are writing about yourself, then be yourself. Judges want to get to know you from the pages of your nomination. They want to gain insight into the type of person you are e.g. your values and passion for what you do. If you are writing about someone else be sure to capture the real person in the nomination. We recommend that completion of nominations occur in partnership with nominees to ensure as much information about them as possible is captured in your submission.
Applications open: 10 AUGUST 2023
Applications close: MONDAY 4 SEPTEMBER 2023
Judging: 6 – 15 SEPTEMBER 2023
Finalists announced: 25 SEPTEMBER 2023
Winners announced (at the Gala Awards Dinner): WEDNESDAY 11 OCTOBER 2023
By placing an entry in the Awards, the submitting organisation is confirming their commitment for a nominating Employment Consultant to attend the Awards for Excellence in person (or virtually upon special request) on Wednesday 11 October at the Sofitel Brisbane.