NESA Consulting Services recognises that every business is unique in its delivery of services.
Our extensive knowledge of the operational and policy framework across the employment, disability and community services sector enables us to provide highly specialised, target-driven and cutting-edge consulting services.
We are able to tailor our consulting services to assist all organisations to respond and adjust to market change.
NESA Consulting Services represents a national
network of over 100 industry experts who are committed to working with organisations to optimise their performance and financial position.
NESA Consulting Services provides a cost-efficient solution for organisations committed to excellence in both quality and practice.
We have a strong track record in supporting organisations nationwide to reach their personal strategic and business goals.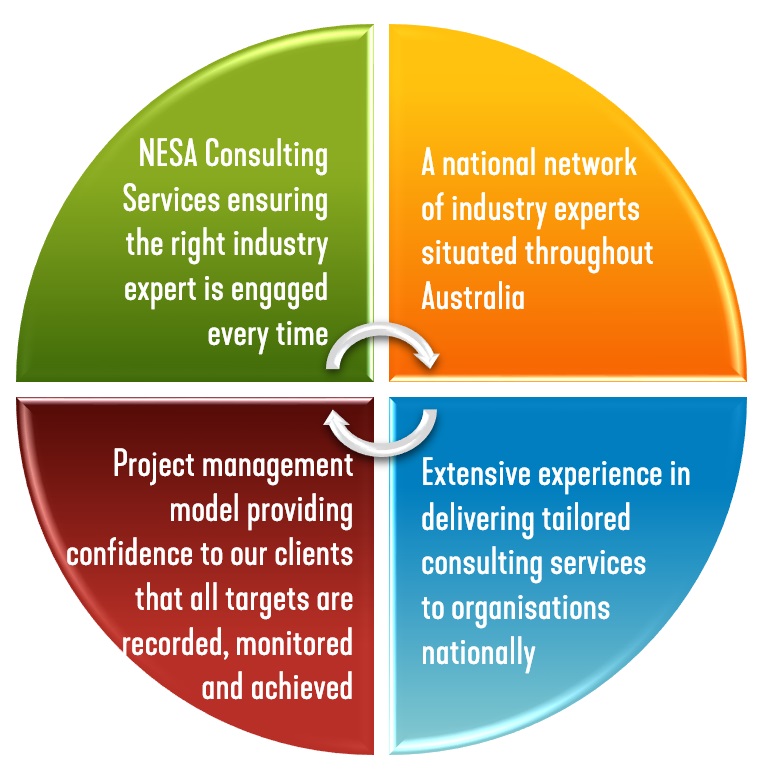 "Great things in business are never done by one person. They're done by a team of people."
The balance of strategic directions and operational priorities is a complex issue faced by many business leaders today.
NESA Consulting Services provides a flexible and innovative solution for business leaders committed to taking their organisation forward. Our approach is to ensure that we don't accept a one-size-fits-all approach, but instead that each enquiry is met with a tailored and dynamic solution. We work with organisations to identify key drivers in building sustainable organisations.
Our industry consultants are able to support organisations across a number of different business priorities including:
ORGANISATIONAL COMPETENCE
Organisational Assessment and Restructuring

Transitional Support

Financial Management and Analysis

Business Process Review

Service Delivery Model Design and Evaluation

Governance Structure, Development and Training

Partnership and Sub-contract Negotiation
Business Development and Tender Preparation

Risk Management and Compliance

Project Management

Quality Assurance Framework

Community Engagement

Workforce Leadership and Design

Marketing and Social Media Strategy
Organisational Assessment and Restructuring

Transitional Support

Financial Management and Analysis

Business Process Review

Service Delivery Model Design and Evaluation

Governance Structure, Development and Training

Partnership and Sub-contract Negotiation
NESA Consulting Services ensures:
A roadmap from project commencement to completion, allowing all deliverables to be continually monitored and evaluated

Every client request assessed against our national network of industry experts to position the right expert with your organisation

All timelines and costs managed closely to achieve cost efficient solutions for your organisation

Communication protocols established to your design, allowing all reporting and communication processes to be understood immediately