When:
December 14, 2023 @ 3:00 pm – 5:00 pm
2023-12-14T15:00:00+11:00
2023-12-14T17:00:00+11:00
Where:
On line at your desk

Cost:
NESA members $150 and non members $200 (prices are inclusive of GST)
Contact:
Wendy Linsen
03 9624 2311
Motivating Resistant clients - Conversations about change
ONLINE COACHING PROGRAM | 2 hours
Thursday 14 December 2023
Lack of motivation is an increasingly difficult barrier to manage in employment services. Existing barriers and obstacles are affecting our clients motivation to participate in activities and job search.
Working with resistance can take its toll on staff, it becomes tiresome and frustrating. Resistance can be intermittent or ingrained. This inflexible pattern of relating, perceiving and thinking, requires a different level of investment to get clients engaged, focused and moving into employment.
This 2 hour online coaching program will build a framework to engage and motivate resistant clients. It will provide you with the motivational interviewing skills to engage resistant clients, and to inspire motivation and enthusiasm.
Hear about the framework and tools, in order to achieve outcomes and to retain a positive attitude in an ever changing and demanding industry. Focusing on client accountability, the skills will enable you to encourage clients to take personal responsibility whilst stimulating motivation. Instead of struggling when confronted by resistant, you will be able adapt a more constructive method in achieving outcomes.
The coaching program is a necessity for all frontline staff and management.
Expected outcomes
Understand the reasons for resistance
Understand the Stages of Change and how they apply to employment Services
Learn motivational interviewing techniques
Learn the importance of deliberate and collaborative conversations about change targeted questions to elicit change
Learn effective ways to resolve discrepancy and ambivalence
Sharon is a qualified human services program designer and lecturer with many years of experience in Human Resources. For the last 5 years she has focused on researching and working with disengaged job seekers and their complex needs. Sharon combines clinical psychotherapy and professionalism with a natural and down-to-earth approach. Sharon is a qualified Drug and Alcohol Facilitator, Psychotherapist & Social Sciences Professional. She has worked as a psychotherapist in employment services for many years. As an expert in encouraging mandated and resistant clients to change, she keynotes at national conferences on topics of behavioural change, AOD, mental health and neuropsychotherapy.
NESA Member
Prices are inclusive of GST
NON Member
Prices are inclusive of GST
The coaching program is expected to run for approximately 2 hours including ample Q&A and discussion time. A PDF copy of the presentation will be distributed to all registrants. Once the series has been completed, participants will receive a Certificate of Completion.
For further information on NESA PD training events please contact us on +61 3 9624 2311 | EMAIL
NESA PD BOOST SUBSCRIPTION
BOOST YOUR WORKFORCE CAPABILITY​
Are you looking for ways for your staff to develop skills on a regular basis?
INTRODUCING NESA'S PD BOOST SUBSCRIPTION OFFER
EXCLUSIVE TO NESA MEMBERS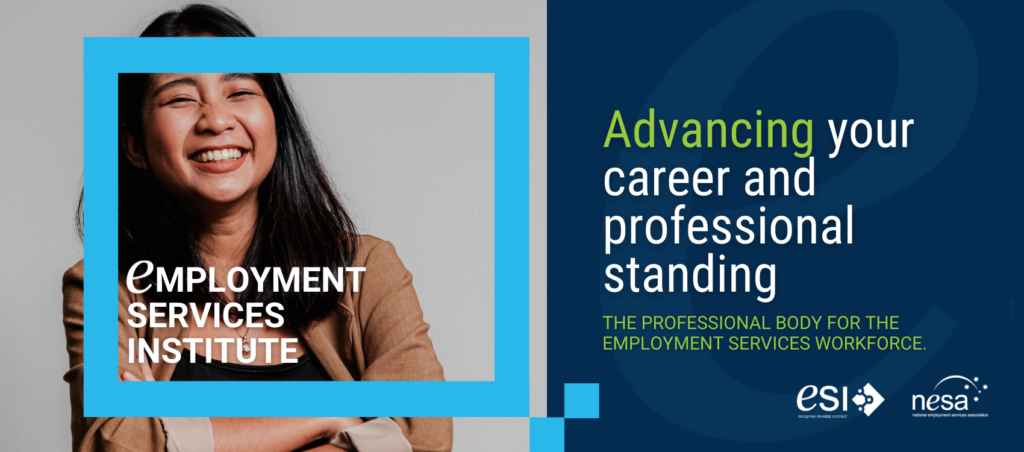 Employment Services Institute (ESI)
// Become an ESI member! \\
The ESI is a professional body dedicated to advancing practitioners' career and professional standing as well as building recognition of the professionalism of the employment services sector, more broadly.
ESI membership is open to all who work or aspire to work in Employment Services or related sectors.